About 911 Restoration of Southern Illinois
Meet the Team
In Southern Illinois summer can be hot as blazes, while winter can be long and frigid.
Since water damage remediation requests often roll in after a major ice storm, here are some tips that can help ensure your family a safe and warm winter:
Muck your gutters thoroughly before winter arrives. Dead leaves and debris from the fall can clog the downspout and cause a roof leak. Remember to position the downspouts away from your siding with a five foot clearance: you don't want wet siding!
Just because it is winter doesn't mean you should be careless about fire safety. Matter of fact, the cold season is when most people use their fireplace and chimney. Get both inspected to make sure they're up for regular usage after having been inactive for so long.
Listen to a NOAA Weather Radio and check other local news channels for alerts on snow storms and blizzards from the National Weather Service (NWS).
The biggest mistake we see our clients commit again and again is being unprepared. That's why he makes it his mission to better inform homeowners of preventative measures. As happy as he is to see returning customers, he really hopes that "we won't see each other too often."
Teamwork is the key word of the day
It takes many hands to build a home. It also takes many hands to restore one.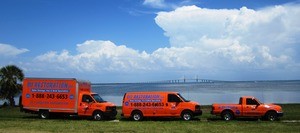 The ability to stay ahead of the weather cycle means a great deal. But what is even more important is staying available to take emergency calls at 2 AM in the morning.
At 911 Restoration, we're available 24/7/365 to homeowners in need, as well as to offer them same day service and a free home inspection.
There is nothing worse than waking up to a crisis and doesn't know whom to call: if you ever find yourself in this situation, give 911 Restoration of Southern Illinois a call. He'll be there within 45 minutes or less.
If your property is already awash in flooding, then contact the water damage restoration team with 911 Restoration Southern Illinois today!