Water Damage Restoration in Marion
There is no better place to live than Southern Illinois, but with beautiful forests and friendly communities come the inevitable damages of heavy precipitation and high humidity.
If you're a property owner in Marion, Carbondale, or the surrounding area, your home or business is at higher-than-average risk of basement flooding, mold contamination, ceiling leaks, and major water damage from burst pipes and water dams.
Fortunately, you also have an expert water damage restoration and mold removal team on hand 24/7/365.
No matter when disaster strikes, 911 Restoration of Southern Illinois will be there to help. Staff is available to take your call, day or night, any day of the week. Even better, the water damage and mold removal technicians are guaranteed to arrive within 45 minutes.
Water damage poses major, lasting risks to the integrity of your home or business. The longer moisture is allowed to sit, the more serious and more costly your damages will be. 911 Restoration has seen the devastation caused by unexpected property disasters, and our compassionate professionals work quickly to turn your emergency into the best case scenario.
Your peace of mind is our first priority, which is why the friendly staff even works with you to file insurance claims and bill your provider directly. 911 Restoration works hard to keep your costs at a minimum and your rewards at a maximum.
If you've been struck by water damage, time is of the essence. Contact us today and let our expert technicians make your property feel brand new again.
Emergency House Flood Cleanup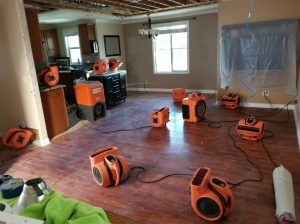 When you're looking at a flooded basement, it may seem utterly impossible that your house or business could ever be the same after water damage.
The truth is, not only is full water damage restoration possible, but with 911 Restoration, your property can even be better than new.
When our highly trained technicians approach a water-related accident, they take great care to examine every aspect of your unique situation. They protect your undamaged belongings by packing them out and storing them for you. They perform flood cleanup using professional-grade fans to completely dry out water damage. They even scour every inch of the affected area, checking for water damage on drywall and sheetrock.
The restoration professionals will tear out anything that has been destroyed, from carpet to drywall. Then, they'll repair your walls and flooring. 911 Restoration doesn't just leave your property better than they found it. They leave it better than you found it.
Your dedicated water damage restoration staff even inspects for mold and performs mold decontamination. By the time the technicians walk out the door, you'll have full confidence that your water disaster is 100% in the past.
Pipe bursts, ice dams, basement flooding . . . none of these mishaps has to be an irreversible crisis. Call us today, and our speedy technicians will get out in front of the problem and get you back on your feet.
Certified Mold Remediation In Marion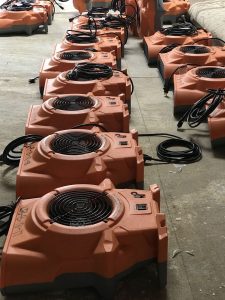 The hot, muggy climate of Southern Illinois already creates an inviting environment for mold. If your property has experienced water damage, your risk of a mold infestation is even higher.
Spores gather and thrive anywhere they can find moisture. You might mold growing under your kitchen sink, on your ceiling, or on water-damaged drywall. And it happens fast. Surfaces in your home or office only need about 24 hours of exposure to moisture before an infestation begins.
This is why our restoration technicians are also trained and IICRC Certified mold remediation professionals. Their water damage restoration efforts don't end when they've dried out your property. They go the extra mile to inspect for mold. If any is found, they use professional equipment to remove the mold from your home permanently.
You've likely heard the risks mold poses to both your property and your health. If you have a particularly toxic infestation, such as black mold, it is especially crucial that you pursue mold decontamination immediately. More importantly, always defer to certified professionals for mold removal.
911 Restoration of Southern Illinois knows that truly restoring your property after water damage means considering everything. In all our efforts—from flood cleanup to mold decontamination—we value your peace of mind above all else. You can see the evidence in our high standards.
Call us today and let us help you move past water damage as quickly as possible.
Serving the communities of Eldorado, Harrisburg, Herrin, Ina, Johnston City, Logan, Marion, Mc Leansboro, Metropolis, Mount Vernon, Murphysboro, Sesser, West Frankfort and surrounding area.