Mold Removal
911 Restoration Southern Illinois is an industry-leading provider in mold removal Marion services with our technicians who are available 24/7/365.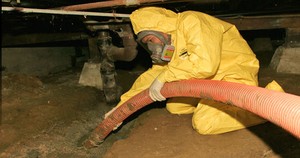 The leading cause of mold in the country is water damage, and water accidents occur quickly. Meaning, we have to act even faster, which why we provide a response time of within 45 minutes along with same day service.
From a pipe burst to snow related damage, the key to keeping mold away is by effectively limiting the chance of unwanted moisture in the home.
Regardless of what caused the mold, you can count on us to deliver you a fresh start. New beginnings and better tomorrows are what we strive to achieve.
Our 35 years of experience makes our mold removal Marion team experts in alleviating mold concerns, so call now for fast and affordable service.
Mold Remediation, Even in the Cold
Humidity can happen anytime of the year, and it is more about the spaces in which evaporation occurs. Homes come packed with hidden cracks around attics and basements, which is where insulation is found.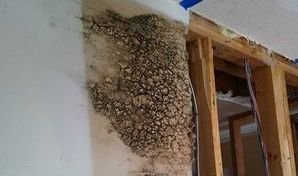 A common mold myth is that it can only occur in the warmer times of the year, as high humidity is a requisite of mold growth.
Thus, there are plenty of spaces in the freezing months where humidity can develop.
One known way is ice damming. As snow piles on the roof, the bottom of it will melt because of conduction heating from the insulation below. As it melts, it runs off, and then refreezes as it gets to the colder parts at either ends of the roof.
Once it freezes, it creates an impromptu dam, so further snowmelt will keep on occurring, trapping even more water. That moisture has nowhere to escape, and it seeps into the roof—wetting insulation and causing humidity.
This is why the mold removal Marion team at 911 Restoration recommends homeowners check that their roof is airtight during the warmer parts of the year.
Even then, sometimes accidents happen, and you deserve peace of mind when they do. Give us a call, and we can introduce stability back into your life because that is our promise to you.
Count us to bring the Fresh Start during the Frozen Months
A Marion customer found moisture and mold covering the exposed wooden structures in his attic. Familiar with the health concerns that mold brings, he decided to call our IICRC certified mold removal Marion team.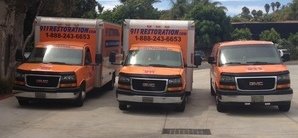 Our experts showed up and immediately identified the cause of the mold as having to do with moisture seeping back into the home because of ice damming.
The restoration process started with removing the ice dam and moisture, which was no problem for our industrial strength dehumidifiers. After that, it was only about removing the mold.
The rigorous courses our mold removal Marion team undergoes means they can handle the most thorough mold decontamination needed.
For example, the customer required a deep cleaning of his attic, and fortunately, we are trained in the use of sanitizing chemicals that penetrate deep into porous substances. It is important to us that we get the entire fungus colony out, as it means confidence for the homeowner for years after the job is completed.
Finally, the restoration work was finished with antimicrobial building material, that ensured the homeowner that he would never encounter mold in that area of his home again.
If you have similar concerns call our mold removal Marion team with 911 Restoration of Southern Illinois quickly for a fast, professional, and cost effective mold decontamination today!
Crawlspace Cleanup Crews
One of the most frequent places to collect mold is under the crawlspace. 911 Restoration of Southern Illinois offers complete crawlspace cleanup services. Our mold removal decontaminates the area so that mold does not continue to grow into the property. Once mold starts, it can spread quickly, infecting a room in as little as 48 hours. Call us now to prevent that situation.
Our goal is to provide your entire home or business with a fresh start, so if we find mold in the carpers, or along the baseboard,s we provide a full search of the crawlspace to detect moisture, remove mold, and provide any water restoration services that may be needed. Typically, mold grows after a flood or other disaster that caused excess moisture.
Our mold removal technicians in Marion are also IICRC certified in water damage restoration to provide professional water removal and mold decontamination.
Call us to make the air in your home safe to breath once again.