Mold Removal Murphysboro
When you call the mold removal Murphysboro specialists at 911 Restoration of Marion, you can rest assured that they will properly and safely get rid of every trace of fungus on your property.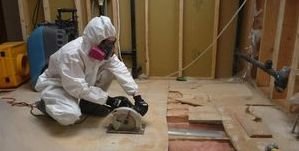 Even if you are unsure if you have mold growing in your home, you can reach out to us and we always provide you with free visual mold inspections as soon as we arrive on the scene.
Homeowners can call us literally anytime to schedule an appointment with our IICRC certified mold removal Murphysboro pros, because we open available 24/7/365 to get you the quickest assistance in the industry.
We always act quickly when it comes to cleaning up fungus, because we are well aware of the side effects in can cause in those living in the home.
Call our mold removal Murphysboro crew when you notice any sign of mold growth or water damage, and we will sanitize your home today.
The Customer's Safety Is The Top Priority Of Every Mold Removal Job
When it comes to dealing with fungus we like to act fast, which is why our mold removal Murphysboro unit makes a point to provide prompt service as soon as we are called to a job.
The main reason why it is so important to move quickly in these situations is because if mold spores are in the air, and those living in the home are inhaling those spores, it can possibly cause health issues, such as:
Wheezing

Asthma

Coughing

Headaches

Sneezing

Itchy eyes

Skin rashes

Respiratory Issues

Sinus Problems
Our mold removal Murphysboro techs want to keep you safe under all circumstances, which is why we deal at the core of the issue as soon as we arrive. Call us the moment you need thorough mold eradication, and we will get the extra mile get your home back on track.
Our Fungus Cleanup Pros Get The Job Done Right The First Time Around
We know how overwhelming it can be to learn that you have mold growing in your living space, but with our mold removal Murphysboro experts on the job you can hand over all responsibility to us once we arrive.

In order to keep you feeling calm, we will take over the entire process for you, from coordinating the restoration work to assisting you with the financial aspect.
Along with knowing exactly how to get your home back into pristine condition, our mold removal Murphysboro professionals will do whatever it takes to keep your out of pocket expenses low.
Even though it is not common for standard homeowner's insurance policies to cover mold, you can be sure that we always offer affordable prices on all of our services.
Call mold removal Murphysboro agents at 911 Restoration of Marion when you need proper fungus remediation and we will give you a fresh start today!