Water Damage And Mold Removal in Carbondale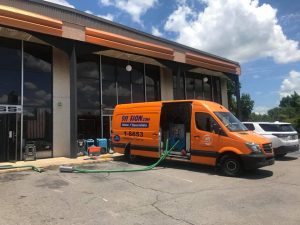 Believe it or not, there is an up-side to needing flood cleanup in Carbondale. That up-side is 911 Restoration of Southern Illinois—a water damage restoration company that offers both 24-hour emergency service and a Fresh Start for you and your property.
The IICRC certified flood cleanup technicians at 911 Restoration are available 24 hours a day, 7 days a week, every day of the year. They arrive at your property within 45 minutes of your call, guaranteed. This is because the flood damage cleanup staff understands how urgent your pipe burst, flooded basement, or water disaster is. They know every moment lost means worse damage and more costly repairs, so they work quickly to minimize your losses, approaching your water damage emergency as if were their own.
Every worker has undergone extensive training in water damage restoration and mold remediation. They have all the skills necessary to not only extract the water and dry your property, but also to leave your home or business in its best-ever condition. They even handle damage repairs, mold inspection, and mold decontamination. The way they see it, this disaster could be a new beginning in disguise, as long as they are dedicated to going that extra mile.
You can be certain they are dedicated. Your friendly water damage restoration staff even offers a free visual inspection for property owners and a free insurance consultation. Because water damage restoration can mean many things—roof repair, sewage removal, mold inspection, etc.—it can be challenging to determine whether your insurance covers the services you require. A member of the flood cleanup staff demystifies this process for you by reviewing your insurance plan, assisting with loss itemization, filing a claim for you, and billing your provider directly.
The team at 911 Restoration isn't just about leaving you with a renovated property. They want to give you total peace of mind from the moment your call comes in. If you're dealing with a flooded basement, pipe burst, storm damage, or any other type of water incident, contact 911 Restoration of Southern Illinois. You'll get the highest standards in service and in care.
Emergency Water Damage Restoration In Carbondale
No property owner ever sees water damage coming. Even for seemingly predictable incidents like the storms and floods of Southern Illinois, water damage still comes as a surprise. You've done all you can to fortify and protect your home, but suddenly a tree comes crashing through your roof in a storm or a pipe bursts in the middle of the night. The next thing you know, you're standing in a flooded basement trying to figure out your next move.
Rest assured that no matter what type of property you own or what caused your water damage situation, 911 Restoration has your back. Expert water damage restoration technicians are at your door in 45 minutes or less, ready to go with emergency boarding up, storm repair, leak detection, water extraction, packing out and storing at-risk belongings, or any other urgent service your situation calls for.
You can trust that your dedicated flood cleanup crew thinks of everything…especially the risk of long-term damage. They know how frequently a water damage incident leads to mold contamination, so they get out in front of the problem with extensive structural drying and a thorough mold inspection. If they discover any problems, they follow up with professional mold removal.
Finally, this team works hard to leave your property in better-than-new condition. If you incur any damage whatsoever, they've got it covered. It doesn't matter if you need drywall replacement, roof repair, or carpet removal. They get rid of the destruction and bring in new materials to make your home or business stronger and more beautiful than ever.
No matter how it may feel, today's disaster is only temporary. For full-service water damage restoration and mold remediation in Carbondale, call 911 Restoration of Southern Illinois today.
Mold Remediation After Water Damage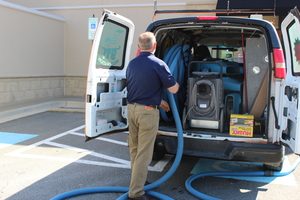 If you've recently recovered from a pipe burst, flooded basement, or any other water-related issue, you should have a complete mold inspection done right away.
The flood cleanup experts at 911 Restoration are also trained and certified to conduct professional mold inspections and comprehensive mold remediation. They've seen time and again how quickly mold spores in the air take advantage of water damage by landing and creating new mold colonies. If you wait too long to pursue mold removal, or if you skip out on a mold inspection and unknowingly live with mold in your walls, you risk serious damage to both your property and your health.
911 Restoration inspects your home or business for any sign of growth. If you have an infestation, they'll find it. When they do discover a colony, they conduct careful mold removal using strategies specific to the species of the infestation. Certain varieties of mold release mycotoxins when disturbed. That's why it's so important to work with a certified mold remediation contractor, as attempting mold removal yourself can cause the growth to release an excess of mycotoxins into the air which can then be inhaled by humans and pets.
After mold removal, the workers dehumidify the structure to discourage any future growth. They also repair surface or structures that may have been destroyed by the infestation. In the end, you're left with a property that feels cleaner and stronger than ever before.
If you've been hit by water damage or mold contamination, you could just get rid of the problem. Or you could reach out to 911 Restoration of Southern Illinois and have expert technicians get rid of the problem, eliminate the cause, and restore your property to its original beauty and strength.
If you like the sound of that second option, call today.
Servicing the cities of Akin, Ava, Belknap, Belle Rive, Benton, Bluford, Bonnie, Brookport, Broughton, Buckner, Burnt Prairie, Cambria, Campbell Hill, Carbondale, Carmi, Carrier Mills, Carterville, Christopher, Coello, Colp, Creal Springs, Crossville, Dahlgren, Dale, De Soto, Dix, Dowell, Eddyville, Eldorado, Elkville, Emma, Energy, Enfield, Ewing, Frankfort Heights, Galatia, Golconda, Gorham, Grand Tower, Harrisburg, Herod, Herrin, Hurst, Ina, Jacob, Johnston City, Logan, Macedonia, Makanda, Marion, Maunie, Mc Leansboro, Metropolis, Mill Shoals, Mount Vernon, Muddy, Mulkeytown, Murphysboro, Nason, Norris City, Opdyke, Oraville, Orient, Pittsburg, Pomona, Raleigh, Royalton, Scheller, Sesser, Springerton, Stonefort, Texico, Thompsonville, Valier, Vergennes, Waltonville, West Frankfort, Whittington, Woodlawn, Zeigler, and surrounding areas.