Water Damage Centralia
Water damage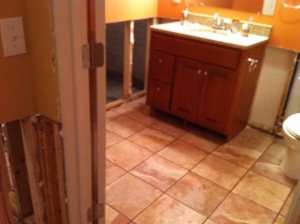 is dangers because it can contain a large amount of bacteria, promote mold growth, and eat through your home's support beams, so call our water damage Marion company as soon as you find leaks so that our water damage Centralia crew can respond within 45 minutes to start pumping water out. We are available 24/7 to help you with a pipe burst, ruptured hoses, or rain leaks. 911 Restoration Marion has over 35 years of experience restoring houses in the community, so we know how vital it is to fix your property before mold generates, clean water festers into black water, and your house's building materials give way. Our water damage Centralia team will always put the customer first, so our policies include:
We value professionalism
We are licensed insured and bonded
We respond within 45 minutes
We are IICRC certified
We use the latest drying technology
We are available 24/7
We have over 35 years of experience
We are capable of all disaster restoration services
Whether you need mold removal or water damage restoration services, our water damage Centralia experts can help. When your home floods, get a hold of 911 Restoration Marion as soon as possible. Our same day service accompanied with a free inspection to check for mold will get you back in your home sooner rather than later. Call our water damage Centralia experts today!
Who do I Call for Water Damage in Centralia?
Call our water damage Centralia representative for water recovery when your home floods because we are the best company in business. Beyond our fast drying and clean up jobs, we offer an affordable price and professional work. We know how important speed and expertise are in the matter and work hard to keep you safe. Therefore, when you find a washer burst, ruptured houses, or damage from storms in your home, follow these steps outlined by our water damage Centralia personnel:
Call 911 Restoration
Stay away from the area
Turn off your water line and other utilities
Contact your insurance company
Remove all furniture from the area
You want to get a hold of 911 Restoration Centralia first so that we can start the water mitigation as soon as possible. Next, we will tell you how to salvage your home by shutting off your utilities. By turning off your water line, you reduce the flow of water into your property. By turning off your electricity you lower the chances of short circuits when the water level reaches your outlets. We are working with all insurance companies to resolve your claim and can even file it for you. Due to the health risks, you want to stay away from the area. Call our water damage Centralia staff to keep you safe from the incident and make sure you get the most homeowner's insurance coverage possible.
Does Homeowner's Insurance Cover Water Damage?
Homeowner's insurance covers water damage Centralia services for homeowners that take steps to protect their properties against floods. 911 Restoration Centralia recommends you insulate your water line, clean your rain gutters, and test sump pumps before winter storms set in. Pipe insulation will keep them warm during the winter so that a frozen pipe burst does not occur. Clearing your rain gutters of leaves and property aligning your downspouts will ensure rain has an easy way off your roof, aside from causing leaks. Sump pumps are your first line of defense so you should always make sure they are in good working order. When all else fails, call the best water damage Centralia company to handle the disaster restoration and the insurance company.
What is the Best Water Damage Company in Centralia?
The best water damage Centralia company is 911 Restoration because we understand the dangers of leaks and how quickly they can turn into black water floods. We strive to provide you with the best water damage restoration services. The Centralia Reservoir may have been created for good intentions, but that amount of water collected in one place means that there will be an increase of storms due to evaporation. When those rains take a toll on your home, call our water damage Centralia experts for a fresh start!