Water Damage Christopher
The water damage Christopher flood extraction team from 911 Restoration Southern Illinois wants to make sure that you get a fresh start after a water disaster by providing our quality repair and restoration services.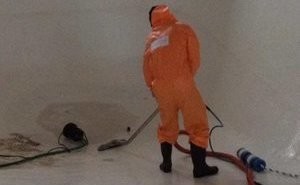 Pipe bursts, roof leaks, sewage spills, and flooding are all problems that can cause significant harm to your property. But when they do occur, rest assured that water damage Christopher repair experts will be there to help.

Whenever heavy rains occur, your home in Christopher could become susceptible to issues like roof leaks, storm damage, and flooding. When these problems do happen, it's going to take immediate action in order to stave off any further damage to your home.
Fortunately, our water damage Christopher flood extraction team is ready 24/7/465 to provide you with on the day service exactly when you need it.
Our water damage Christopher team will respond within 45 minutes of your call and once they arrive, they will provide a free inspection and estimate that will help determine the source of the problem and will help us provide you with the most affordable solutions that will address all issues.
Complete Water Damage Solutions
Whenever water damage affects your home, there can be more than meets the eye. Water damage like roof leaks, pipe bursts, and sewage backups can cause structural problems like drywall flooding and wood rot.
Our water damage Christopher leak repair specialists have almost four decades worth of experience know that there needs to be a comprehensive approach to repairing and restoring water damage so all potential issues like mold growth are prevented. Here are the services that you can expect from our team:

Storage services that will keep your belongings safe while we perform our work.

We use the

latest drying equipment

to be able to extract water and moisture out of your home.

We will provide mold remediation that will make sure mold and any spores it may have released into your home are removed thoroughly.

For sewage backups, we will be making use of industrial strength cleaning solutions that will effectively decontaminate your home without causing further damage.

We will provide disaster damage restoration for homes affected by storms, flooding and other kinds of disaster.

Our

licensed, insured, and bonded

professionals will be checking and patching up any damage found on your plumbing system

Our

IICRC certified

technicians will be providing complete property restoration that will make sure your home looks good as new!
Water Damage Repair Pros You Can Always Count On
Our experienced and trained water damage Christopher restoration professionals make it their personal mission to provide you with the quality water damage repairs and restorations you need.

We will work with only your absolute convenience and satisfaction in mind. So you can also expect us to assist in you in filing your claims with your insurance provider
With our comprehensive service, advanced equipment, and quick response, you can always turn to our water damage Christopher leak removal specialists for assistance in patching up that roof leak, pipe burst, or sewage backup. Allow us to give your home a fresh start by giving us a call today!