Water Damage And Mold Removal in Harrisburg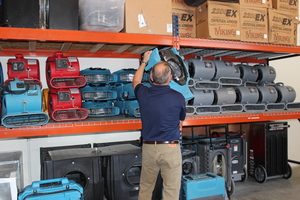 Water damage can happen to any property at any time. From pipe bursts to flooded basements following Southern Illinois storms, local property owners are frequently at odds with the damaging effects of water. The good news? Whether it's a ceiling leak or tornado damage, and whether you own a house or a business, you can always turn to 911 Restoration of Southern Illinois for emergency water damage restoration in Harrisburg and beyond.
911 Restoration guarantees that IICRC certified flood cleanup technicians will be at your door within 45 minutes of your call. And that goes for literally any time you call, including the dead of night or noon on New Year's Day. Consider 911 Restoration your 24-hour emergency water damage restoration contractor, providing compassionate, expert service at the drop of a hat.
The flood cleanup crew is staffed by highly trained professionals. Every member of the team has undergone thorough training in all aspects of water damage restoration, including water extraction, sewer water cleanup, damage repairs, boarding up, mold inspection, and mold removal. They leave no stone unturned in their mission to leave your home or business looking and feeling better than new. By the time they leave your property, the water will be gone, the source of the problem will be fixed, and there will be zero evidence that your pipe burst or storm destruction ever happened.
Just as important, you can expect compassionate, courteous service from your water damage restoration workers throughout the process. They work hard to give you peace of mind, and that means providing caring service and professional transparency. They even offer a free insurance consultation to clarify which flood cleanup services are covered by your provider.
From water extraction to mold remediation, the journey to a full recovery can be complex. But it doesn't have to be difficult. Just call 911 Restoration of Southern Illinois and hand every last worry over to your certified technicians.
Business And Home Flood Cleanup
Whether you own a home or a business, one thing is certain: You've poured your heart and resources into that property. Seeing it destroyed by a pipe burst or act of nature is a slap in the face.
The water damage restoration staff at 911 Restoration realize what's at stake when you've been struck by disaster. They know that a damaged home is a lost refuge, and a flooded business means lost profits. That's why they work quickly to get you back on your feet. No matter when you call, day or night, you can trust that certified flood cleanup experts will be on the scene in no more than 45 minutes. They set to work right away, identifying your most immediate needs and minimizing damage with urgent boarding up, storm repair, roof repair, water extraction, or any other emergency service.
Once the water is completely gone from your property and the flood cleanup crew has dried the area completely, they conduct structural testing to see if any materials have been compromised by water damage. If they find any problems—from warped floorboards to a weak ceiling—they repair the issue so you're left with a property that's stronger and more resilient than ever before. They even perform a thorough mold inspection and provide mold decontamination if needed.
When you call 911 Restoration of Southern Illinois, you can expect a Fresh Start for you and your home or business. If you have a flooded basement or any other form of water damage, don't delay. Contact us now.
Expert Mold Removal In Harrisburg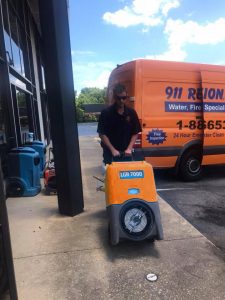 If you need flood cleanup in Harrisburg, you need a mold inspection, too.
Mold spores only need 24-48 hours to turn a damp surface into an active breeding ground for mold. And this often happens behind walls, on sheetrock, and in other hidden places. Without a professional mold inspection, goodness only knows how long you could live with an unknown infestation destroying your property and releasing dangerous particles into the air you breathe.
The water damage restoration technicians at 911 Restoration are trained and certified in mold remediation. Whether you've had a pipe burst or a sewage backup, they always take great care to conduct a full mold inspection. If they discover any growth, they deliver a sample to a third-party laboratory for testing. Correct identification of the species is important to ensure that your mold remediation specialists choose the mold removal strategy that will be most effective for your infestation. If you have an especially dangerous variety of mold in your property, the experts are careful to conduct mold removal in a way that limits the release of mycotoxins.
The final step in mold remediation is structural dehumidifying. This process completely dries out the structure where mold grew, ensuring that no locked-in moisture rises to the surface, inviting new mold spores and another infestation.
From water damage restoration to mold remediation, when these professionals perform a service, they perform it completely. For comprehensive care, call 911 Restoration of Southern Illinois.
Servicing the cities of Akin, Ava, Belknap, Belle Rive, Benton, Bluford, Bonnie, Brookport, Broughton, Buckner, Burnt Prairie, Cambria, Campbell Hill, Carbondale, Carmi, Carrier Mills, Carterville, Christopher, Coello, Colp, Creal Springs, Crossville, Dahlgren, Dale, De Soto, Dix, Dowell, Eddyville, Eldorado, Elkville, Emma, Energy, Enfield, Ewing, Frankfort Heights, Galatia, Golconda, Gorham, Grand Tower, Harrisburg, Herod, Herrin, Hurst, Ina, Jacob, Johnston City, Logan, Macedonia, Makanda, Marion, Maunie, Mc Leansboro, Metropolis, Mill Shoals, Mount Vernon, Muddy, Mulkeytown, Murphysboro, Nason, Norris City, Opdyke, Oraville, Orient, Pittsburg, Pomona, Raleigh, Royalton, Scheller, Sesser, Springerton, Stonefort, Texico, Thompsonville, Valier, Vergennes, Waltonville, West Frankfort, Whittington, Woodlawn, Zeigler, and surrounding areas.