Water Damage Herrin
John Fowler and the experts he employs with his 911 Restoration Southern Illinois branch office of the company are fully committed to solving any manner of water damage struggle that your property is experiencing.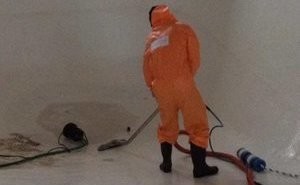 By making himself and his teams available 24/7/365 John can set up with all the right equipment for any job quickly which minimizes the extremes of impairment that a water damage Herrin event can cause.
"We know that a simple leak can turn into a major catastrophe if the source of the trouble isn't located and stopped immediately," John reports "and this is why my crews and I are always at the top of our game and ready for anything at the drop of a hat."
Giving people and their homes the best chance for recovery after a water damage episode means taking into account all of the variables that may pertain to the situation before it gets any worse.
To do this, John and his staff have all the IICRC training and certifications needed for any situation, as well as a true concern for the safety and mental well-being of his clients.
"Restoration work is as much about helping people to understand what has happened as it is about fixing it for them," John says.
With a positive mental attitude like this, it's no wonder that putting the customer first is always the top priority for John and his crews.
Providing A Fresh Start.
Ensuring that people are the number one concern at every job site is just standard practice for John and his teams. But most people don't realize that even as disastrous as a water damage scenario can seem, it will always result in something positive in the end.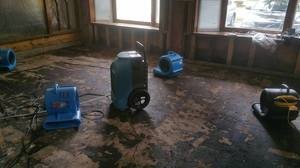 "Lots of people think that a water damage event will ruin their home, and that it will never be the same again," John says "And they're right, but what they don't realize is that a water damage situation can also be a chance to get a Fresh Start and make huge improvements too."
Taking this into account gives John a solid foundation for reestablishing peace of mind in the homeowner.
That way they know when he gets to work, everything will be fine and their home is in the best hands possible for the job.
Ultimately, while no one wants to go through a water damage crisis, there is usually a truly positive outcome at the end of them, and John goes to great lengths to ensure that this is the case for all of his clients.
Two Restorations With One Stone.
John and his teams know all too well that any sort of water damage critical situation will usually result in a mold growth if handled improperly.
This is why he and his staff take extra precautions to eliminate all of the moisture from every surface in the home.

John employs the latest technology for drying, extraction, mitigation and even testing and sensor technology.
"An infrared camera can help determine if a home still has wetness lurking anywhere behind the scenes where it can't be seen with the naked eye," John says "and this gives us the ability to find all the potential places for mold to grow and to stop it before it starts."
Bringing the best equipment and the right tools for every job is just the way John and his teams work. They don't cut corners and they make sure to help with everything possible on all jobs that they work on.
"We'll even file the insurance paperwork for the property owner," says John, "this way there is virtually no chance that the situation won't be covered because of reporting errors and mistakes."
If your home is in the middle of a water damage dilemma, then don't hesitate to contact the best in the business by calling John Fowler and his water damage Herrin team with 911 Restoration Southern Illinois today!