Water Damage And Mold Removal in Herrin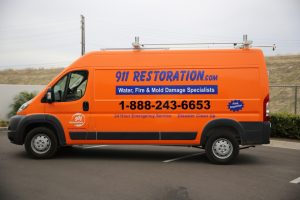 From pipe bursts to window leaks to tornado damage, all water disasters have one thing in common: they demand an urgent response. When water comes pouring into your home or business, you can't afford to wait for regular business hours. Fortunately, the water damage restoration technicians at 911 Restoration of Southern Illinois would never ask you to. They are on-call 24/7/365, and no matter when you reach out, you can trust they'll be at your door in 45 minutes or less.
This crew takes their responsibility for providing flood cleanup in Herrin very seriously. As they see it, you're more than a customer; you're a neighbor in need. The water damage restoration technicians work diligently to not only get rid of the water, but to also repair all damages so you're left with a home or business that's better than new. Every flood cleanup professional is IICRC certified and has completed rigorous training in water damage restoration. They do everything—water extraction, sewage removal, leak detection, damage repairs, mold inspection, mold decontamination… you name it.
Wondering if insurance covers water restoration? You can find those answers with 911 Restoration. The flood cleanup staff provides a free insurance consultation to go over your plan and clarify which services your provider covers, from water extraction to mold remediation. You can rest assured that 911 Restoration accepts your insurance, no matter who you're with, and they even provide assistance with loss itemization, claim filing, and direct billing.
The bottom line is that when you're facing a pipe burst, flooded basement, or any other water catastrophe, you're not alone. Expert, compassionate water damage restoration and mold remediation is only one call away. Reach out to 911 Restoration of Southern Illinois and relief will be at your door in 45 minutes or less.
Full-Service Water Damage Restoration In Herrin
When you're standing in a flooded basement following a pipe burst, you may feel like you're drowning in questions. You start to think of all the potential damages, all the steps it could take to get out of this disaster and on to a Fresh Start. How many contractors will it take? How expensive will it be? Will your property ever be the same after water damage?
Relax, take a deep breath, and call 911 Restoration of Southern Illinois. They take care of everything.
When the flood cleanup crew arrives at your home or business, they immediately assess the situation and commence emergency services such as packing out and storing at-risk belongings, boarding up, storm repair, roof repair, water removal, or sewage extraction. Then they bring in heavy-duty fans to dry out the area completely.
Once the most pressing issues are addressed, the flood cleanup staff dives in to those other worries you have. They test the structure for any lasting damage from your pipe burst or flooded basement, and if they discover a problem they fix it. It's that simple. It doesn't matter if you have a torn-up roof or rotted drywall. This crew repairs the surface and leaves you with a structure that's clean and strong.
They also provide a complete mold inspection to make sure there's no infestation resulting from your water damage incident. If they discover a colony, they conduct mold removal in a manner that is safe for you, your family, your coworkers, and your pets.
The ultimate goal of your water damage restoration crew is to restore your property to top condition. That means fixing the problem, removing the water, cleaning the space, and restoring all compromised surfaces so you can move forward knowing that you and your property are stronger than ever.
Call 911 Restoration of Southern Illinois for your Fresh Start.
Mold Inspection And Mold Remediation
Whether you need a mold inspection following recent water damage or you've called in our mold remediation crew because you've recently discovered a colony yourself, one thing is certain: you've come to the right place.
The mold decontamination experts at 911 Restoration take great care to eliminate your infestation in the safest and most effective way possible. They start with a thorough mold inspection, searching every inch of your property for the telltale signs of an infestation. That way, they can go into mold removal knowing that every colony has been discovered and eliminated, leaving you with a truly mold-free property.
Their approach to mold removal may vary depending on the species and nature of your infestation. One thing you can be sure of, however, is that these highly trained experts will manage mold removal with the utmost care. And once they've cleared away the colony, they use professional tools for structural dehumidifying. This step is extremely important in the mold remediation process, as it prevents spores from starting a brand new infestation. When you call 911 Restoration for mold removal in Herrin, their goal is to make sure you only have to call them once.
Whether you need a mold inspection or full-service water damage restoration, the best option is crystal clear. Call 911 Restoration of Southern Illinois today.
Servicing the cities of Akin, Ava, Belknap, Belle Rive, Benton, Bluford, Bonnie, Brookport, Broughton, Buckner, Burnt Prairie, Cambria, Campbell Hill, Carbondale, Carmi, Carrier Mills, Carterville, Christopher, Coello, Colp, Creal Springs, Crossville, Dahlgren, Dale, De Soto, Dix, Dowell, Eddyville, Eldorado, Elkville, Emma, Energy, Enfield, Ewing, Frankfort Heights, Galatia, Golconda, Gorham, Grand Tower, Harrisburg, Herod, Herrin, Hurst, Ina, Jacob, Johnston City, Logan, Macedonia, Makanda, Marion, Maunie, Mc Leansboro, Metropolis, Mill Shoals, Mount Vernon, Muddy, Mulkeytown, Murphysboro, Nason, Norris City, Opdyke, Oraville, Orient, Pittsburg, Pomona, Raleigh, Royalton, Scheller, Sesser, Springerton, Stonefort, Texico, Thompsonville, Valier, Vergennes, Waltonville, West Frankfort, Whittington, Woodlawn, Zeigler, and surrounding areas.