Water Damage Logan
Homeowners living in Logan have access to the water damage Logan pros at 911 Restoration Southern Illinois, the most capable flood and leak mitigation service provider in the area.
In order to implement our speedy water damage mitigation, our staff is available 24/7/365, with service agents standing by to dispatch Logan flood removal technicians to your home within 45 minutes of receiving your urgent phone call.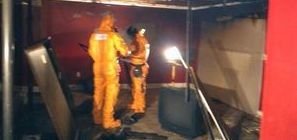 With advanced water extraction and drying machinery, the Logan water extraction specialists are able to expel all moisture from your property and quickly remediate the following causes of water damage:
Roof leaks

Sewage backups

Appliance malfunction

Water heater explosions

Washing machine overflows

Ruptured appliance hoses

Home flooding

Shower pan leaks
No matter how severe the damage to your home may seem, you can rest assured knowing that if you call our Logan flood mitigation professionals we will get your home back into tip top shape!
We Can Help With More Than Just Water Damage Restorations
Many people are unaware that where there is water damage, there is usually mold, especially if the water has been left sitting for an extended period of time.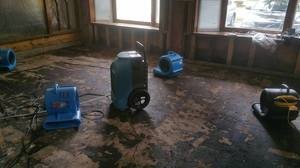 We implement same day services for pipe bursts and any other water related disaster, because we want to do everything we can to minimize the damage done to your property by acting fast.
When mold spores are inhaled, they can cause allergy-like symptoms and possible respiratory issues.
Our fast and efficient free visual mold inspections allow our Logan water removal agents to eradicate all signs of fungus from the premises, which is important in maintaining the health of your home and your family.
If you noticed that you have damp areas of the home that may potentially be causing mold growth, call our Logan flood cleanup techs so we can begin removal procedures immediately.
Our Water Damage Pros Make Happy Homeowners
Maintaining customer service is our main priority when we approach every water damage restoration job. We take professionalism seriously, and want to ensure that you get the best care when you solicit our help.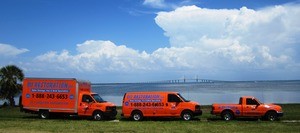 By having so much experience in the industry, we know exactly what homeowners need in order to be satisfied with our services, which includes affordable prices and reliable availability.
Insurance is also an important factor of water disaster remediation, so our Logan water damage agents will contacted your insurance company on your behalf and file your claim for you.
Our goal is to get you the lowest deductible and keep your out-of-pocket expenses low, so when you call the Logan leak repair unit we will provide you with everything you need.
Call our water damage Logan team with 911 Restoration Southern Illinois the moment you discover any kind of plumbing emergency occurring in your household, and we will get started on giving you and your home a fresh start.