Water Damage And Mold Removal in Marion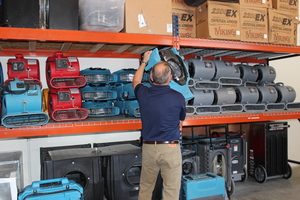 A water disaster like a pipe burst or flooded basement can feel like a cruel joke… especially to a property owner who has done everything right. You've poured so much of your time and resources into making your house a home or your business a refuge, but between the unpredictability of Marion's storms and run-of-the-mill property incidents, you can't ever truly prevent the inevitability of water damage. So, what's the bright side? The bright side is 911 Restoration of Southern Illinois: 24-hour emergency flood cleanup and compassionate customer care.
911 Restoration is staffed exclusively with highly trained, IICRC certified water damage restoration technicians. These professionals are on-call for you 24/7/364. That means you could call for a sewer flood cleanup on Christmas day, and you'll still be able to get an emergency response. And how fast will it take for the flood cleanup crew to get there?
45 minutes or less. Every time. Guaranteed.
You see, at 911 Restoration, your peace of mind is our number one goal. For your water damage restoration techs, this means providing the highest standard of service, emergency response, and clear communication. In fact, they even go the extra mile to put your mind at ease about the cost of flood cleanup with a free insurance consultation. If you're not sure whether your insurance provider covers boarding up, water removal, carpet replacement, mold remediation, or any other aspect of water damage restoration, one of our staff members will figure it out for you. They explain exactly what coverage you can expect, and they assist with all the tedious paperwork from loss itemization to filing a claim.
At 911 Restoration of Southern Illinois, we don't just want you to survive your pipe burst or flooded basement. We want you to thrive because of it… because of this opportunity to rebuild better than before. That's why you can expect compassionate, comprehensive service that includes damage repairs, mold inspection, and mold removal. After all, that's what you deserve.
Call today and look forward to a Fresh Start.
24/7 Flood Cleanup Service
911 Restoration proudly provides 24-hour emergency water damage restoration in Marion and the surrounding cities. As a locally owned and operated company, 911 Restoration places high value on the health of the community and the safety of our neighbors. That's why the water damage restoration staff remains available for every emergency, no matter when, where, or how disaster strikes.
When you reach out to the flood cleanup crew, help arrives within 45 minutes of your call. Highly trained technicians immediately snap into action, and they offer a wide range of emergency services, including emergency storm repair, roof repair, boarding up, water extraction, sewage removal, and leak detection. If you have any valuables currently at risk of damage, the workers pack out and store those belongings to keep them safe until water damage restoration and mold remediation are complete.
Water can be a surprisingly damaging force, and no doubt you're already calculating the potential losses as you look at the results of your pipe burst or flooded basement. Don't worry. Not only does the water damage restoration crew work efficiently to minimize damage, but they also repair everything from your roof to your floorboards, saving you the time and expense of hiring another contractor. They also anticipate potential long-term effects such as mold growth by following up with a complete mold inspection and carrying out safe mold removal.
There is no denying that a pipe burst, tornado damage, or flooded basement is a full-blown emergency. But with 911 Restoration of Southern Illinois, there's no need to stress. Call now and breathe easy.
Trustworthy Mold Inspection In Marion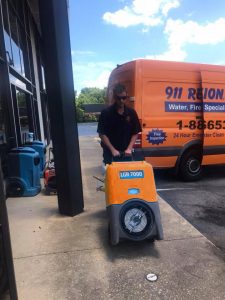 After a pipe burst or flooded basement, mold spores need only 24 hours to land on a damp surface and create a new mold colony. This is why it's so important to get a mold inspection immediately following any water damage incident. Just as important, however, is getting a mold inspection from a contractor you can trust.
The mold remediation experts at 911 Restoration are not only trained and IICRC certified, but they also work with a third-party laboratory for professional mold testing. This means that when your mold removal crew present information about your specific infestation, you can trust that the report they provide is scientific and unbiased.
These mold removal experts also put your health and wellness above all else. A mold infestation can be a dangerous thing, with most species landing somewhere on the scale from allergenic to toxigenic. To put it another way, most types of mold can cause allergies and headaches at best or respiratory and heart problems at worst. The mold remediation crew always works with this in mind, and that's why they take the greatest care in removing your infestation without spreading dangerous mycotoxins or other particles throughout your property.
They also complete mold removal with a process of structural dehumidifying. As much as they like you, it's their goal to make sure you won't have to call them for another round of mold decontamination in the near future. Structural dehumidifying helps ensure this by making the structure of your home or business inhospitable to future growth.
It's one thing to get expert service. It's another thing to get expert service from a contractor that is genuinely invested in your safety and wellness.
For the best and most compassionate mold remediation in Marion, call 911 Restoration of Southern Illinois today.
Servicing the cities of Akin, Ava, Belknap, Belle Rive, Benton, Bluford, Bonnie, Brookport, Broughton, Buckner, Burnt Prairie, Cambria, Campbell Hill, Carbondale, Carmi, Carrier Mills, Carterville, Christopher, Coello, Colp, Creal Springs, Crossville, Dahlgren, Dale, De Soto, Dix, Dowell, Eddyville, Eldorado, Elkville, Emma, Energy, Enfield, Ewing, Frankfort Heights, Galatia, Golconda, Gorham, Grand Tower, Harrisburg, Herod, Herrin, Hurst, Ina, Jacob, Johnston City, Logan, Macedonia, Makanda, Marion, Maunie, Mc Leansboro, Metropolis, Mill Shoals, Mount Vernon, Muddy, Mulkeytown, Murphysboro, Nason, Norris City, Opdyke, Oraville, Orient, Pittsburg, Pomona, Raleigh, Royalton, Scheller, Sesser, Springerton, Stonefort, Texico, Thompsonville, Valier, Vergennes, Waltonville, West Frankfort, Whittington, Woodlawn, Zeigler, and surrounding areas.