Water Damage And Mold Removal in Metropolis
If you've experienced a pipe burst, flooded basement, storm damage, or any other form of water damage, call 911 Restoration of Southern Illinois right away. There is no time to waste when water begins filling your home or business. Every second lost creates a greater risk of long-term damage and the need for costly repairs. When you call 911 Restoration, you get an immediate response from highly trained water damage restoration technicians, no matter when you reach out. An expert flood cleanup crew will be at your property in 45 minutes or less. That goes for weekdays, weekends, holidays, and even the dead of night
The professionals at 911 Restoration have been handling water damage restoration in Metropolis and the surrounding area for a long time. They consider local property owners their neighbors, and that's why they work hard to preserve and restore the beautiful homes and businesses that define life in the local area. They also focus their efforts on providing immediate peace of mind, both through exceptional workmanship and by going the extra mile with extra services like their free insurance consultation. 911 Restoration accepts all types of insurance, and a flood cleanup expert sits down with you to clarify which water damage restoration services will be covered by your provider. Since flood damage cleanup can require a variety of services ranging from sewage extraction to mold inspection and mold removal, this consultation can help take the mystery out of the process so you know what to expect going forward. Flood cleanup staff also helps you with loss itemization, filing a claim, and direct billing.
So what services can you expect when you call 911 Restoration for water damage restoration? Well, that truly depends on your unique situation. But one thing you can count on is that whatever you need, these technicians can handle it. Every flood cleanup worker is IICRC certified and has been extensively trained in all aspects of water damage restoration. That means they know how to fix the cause of your problem, dry your property, repair damage, and take extra steps to conquer mold with professional mold decontamination.
Water damage is overwhelming, but you don't have to do it alone. Call 911 Restoration of Southern Illinois today.
The Fastest Water Damage Restoration Service In Town
How are the technicians at 911 Restoration so fast?
Well, this crew has been handling flood cleanup in Metropolis and the surrounding area for a long time. They've dealt with every type of water damage local properties throw at them, from pipe bursts to flooded basements to tornado damage. As unique as your situation is, they've seen it before, and they know what needs to be done to get moisture out of your property ASAP and restore your home or business to better-than-new condition.
When the water damage restoration workers arrive at your property, they immediately address any emergency need you have, whether that's roof repair, storm repair, boarding up, leak detection, or sewage extraction. If any of your belongings are at risk of being damaged during flood cleanup, the workers pack out and store those items so you don't have to worry about incurring additional damage.
After the water damage restoration crew remove all water or sewage from your property, they commence structural and carpet drying using professional fans. When moisture is allowed to linger in the structures and materials of your property, your home or business becomes vulnerable to long-term damage such as rot and mold contamination. The drying process helps prevent such side effects.
That said, sometimes your flooded basement is too extensive or discovered too late, making it impossible to prevent damage or mold with even the most immediate response. In that case, you can count on your water damage restoration workers to repair all damages, conduct a thorough mold inspection, and follow up with any necessary mold remediation.
The primary goal is to not only get you through this disaster, but to get you to the other side with a property that's cleaner and stronger than ever. Trust us: it's possible. Just call 911 Restoration of Southern Illinois for your own Fresh Start.
Certified Mold Remediation In Metropolis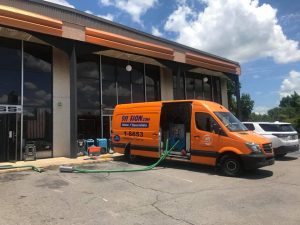 If you suspect you have a mold infestation, contact a certified mold remediation specialist like 911 Restoration rather than attempting mold removal yourself.
While DIY mold removal may seem like a great way to save a few bucks, home remedies will only cost you more money in the long run. Even if you manage to clean the mold, you still have damp surfaces, mold spores in the air, and the possibility of additional mold colonies hiding within your walls. In other words, DIY mold remediation is not the same thing as complete and lasting mold removal from a certified professional.
When you call 911 Restoration of Southern Illinois, our mold remediation specialists perform a thorough mold inspection to make sure every patch of growth has been discovered. Without a mold inspection, you could wind up scrubbing away at one colony while leaving another undiscovered growth to thrive in the shadows.
Once the mold inspection team is satisfied that they've found every colony, they handle mold removal with the utmost care and caution. Some species of mold are extremely dangerous to your health and require professional knowledge and tools for safe mold removal—another reason to leave mold remediation to certified pros.
Finally, mold remediation is always concluded with structural dehumidifying. This means the mold decontamination experts use professional tools to completely dry out the structure where mold grew, thus preventing a repeat infestation.
By the time our water damage restoration experts leave your property, you'll have a home or business that is even cleaner than before and newly fortified against future damage. And isn't that what you deserve?
For the very best service in Metropolis and beyond, call 911 Restoration of Southern Illinois today.
Servicing the cities of Akin, Ava, Belknap, Belle Rive, Benton, Bluford, Bonnie, Brookport, Broughton, Buckner, Burnt Prairie, Cambria, Campbell Hill, Carbondale, Carmi, Carrier Mills, Carterville, Christopher, Coello, Colp, Creal Springs, Crossville, Dahlgren, Dale, De Soto, Dix, Dowell, Eddyville, Eldorado, Elkville, Emma, Energy, Enfield, Ewing, Frankfort Heights, Galatia, Golconda, Gorham, Grand Tower, Harrisburg, Herod, Herrin, Hurst, Ina, Jacob, Johnston City, Logan, Macedonia, Makanda, Marion, Maunie, Mc Leansboro, Metropolis, Mill Shoals, Mount Vernon, Muddy, Mulkeytown, Murphysboro, Nason, Norris City, Opdyke, Oraville, Orient, Pittsburg, Pomona, Raleigh, Royalton, Scheller, Sesser, Springerton, Stonefort, Texico, Thompsonville, Valier, Vergennes, Waltonville, West Frankfort, Whittington, Woodlawn, Zeigler, and surrounding areas.