Water Damage And Mold Removal in Murphysboro
You wake up at 3:00 a.m. to the sound of spraying water. You realize with horror that it's a pipe burst. How long it's been going on, you don't know. All you know is that gallons upon gallons of water have been spraying into your property, and now you're stuck with a pipe burst, a flooded basement, and no idea who to call. Don't worry. All you need to know is that you can call 911 Restoration of Southern Illinois, no matter what day or hour it is. The IICRC certified water damage restoration workers are available 24/7/365, and they are guaranteed to be at your home or business in 45 minutes or less.
Water damage can be an overwhelming experience, especially in Southern Illinois where water damage often comes hand-in-hand with the additional destruction of storms and tornadoes. But no matter why you need flood cleanup in Murphysboro or the nearby communities, you can always trust that 911 Restoration is available with expert solutions and compassionate care.
The water damage restoration crew handles everything you need to not only get rid of the water, but also completely recover from damage. They begin with emergency services such as boarding up, storm repair, and water extraction, and they finish with long term solutions such as a structural repair, mold inspection, and mold remediation. Their goal is to turn your flooded basement or other disaster into a Fresh Start, and that means leaving every surface in your home or business in better-than-new condition.
Because water damage restoration can involve a wide range of services, the flood cleanup staff also provide a free insurance consultation to clarify which of those services your provider covers. They take a close look at your insurance plan and explain which expenses you can stop worrying about, from sewage extraction to mold removal. Then, they go the extra mile to support you with loss itemization assistance, filing a claim on your behalf, and billing your provider directly.
At every part of the process, 911 Restoration makes recovering from your pipe burst or flooded basement easier than you ever thought possible. Call today for your Fresh Start.
Residential And Commercial Water Damage Restoration In Murphysboro
Not only are the expert water damage restoration technicians at 911 Restoration trained to handle every type of water emergency, but they're also prepared to serve every type of property. It doesn't matter if you have a flooded basement in your home or storm damage at your business property, the flood cleanup and mold remediation technicians can help. No property is too large, and no damage is too extensive.
When the water damage restoration crew arrives at your commercial or residential property, they immediately survey the damage and give you a sense of what services you'll need to fully recover. Then, they work quickly to repair the cause of your water damage and get rid of all moisture. Whatever emergency service your situation calls for, they do it, including boarding up, storm repair, packing out and storing, leak detection, water removal, and sewage extraction. Once all the water is gone, they bring in professional fans to dry out the structure itself and conduct a thorough mold inspection to ensure there is no long-term mold contamination in the wake of your water disaster.
If any part of your property has been permanently destroyed, the flood cleanup experts address that, too. They are trained to manage all types of property repairs, including roof repair, drywall replacement, and carpet removal. You won't have to worry about finding another contractor. Your dedicated water damage restoration team does it all.
Whether you've been through a tornado or pipe burst, whether you own a single family home or a massive office building, make 911 Restoration of Southern Illinois your first choice in flood damage cleanup.
Why Do I Need A Mold Inspection After Water Damage?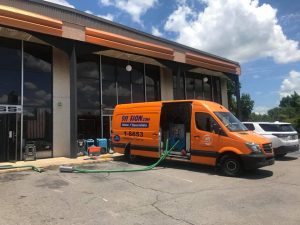 The water damage restoration technicians at 911 Restoration are also extensively trained and certified in mold remediation. Why?
Because mold contamination is an extremely common result of water damage… even seemingly minor water damage like a ceiling leak. Mold spores are constantly in the air around you, and when your property is struck by even the slightest moisture, those spores land quickly and use damp surfaces to grow thriving colonies. Local properties are especially vulnerable to contamination because of the hot, muggy summers. It's no wonder there's such a high demand for mold removal in Murphysboro.
More significantly, much of mold growth happens in dark, hard-to-see places. Without a professional mold inspection, you might not even realize there's an infestation hiding in your property, eating away at the structures of your home or business. The mold remediation crew at 911 Restoration always conclude water damage restoration with a thorough mold inspection to make sure there isn't a colony hiding within your walls, carpet, or sheetrock. If they discover an infestation, they take care of mold removal quickly and completely.
Following mold removal, mold remediation workers bring in professional tools for structural dehumidifying. This is an important step to ensure the benefits of mold removal last. Without dehumidifying, mold spores may find another opportunity to land again and start a new infestation.
From flood cleanup to mold decontamination, 911 Restoration of Southern Illinois is all about comprehensive service and lasting solutions. Call today and put water damage and mold contamination firmly in the past.
Servicing the cities of Akin, Ava, Belknap, Belle Rive, Benton, Bluford, Bonnie, Brookport, Broughton, Buckner, Burnt Prairie, Cambria, Campbell Hill, Carbondale, Carmi, Carrier Mills, Carterville, Christopher, Coello, Colp, Creal Springs, Crossville, Dahlgren, Dale, De Soto, Dix, Dowell, Eddyville, Eldorado, Elkville, Emma, Energy, Enfield, Ewing, Frankfort Heights, Galatia, Golconda, Gorham, Grand Tower, Harrisburg, Herod, Herrin, Hurst, Ina, Jacob, Johnston City, Logan, Macedonia, Makanda, Marion, Maunie, Mc Leansboro, Metropolis, Mill Shoals, Mount Vernon, Muddy, Mulkeytown, Murphysboro, Nason, Norris City, Opdyke, Oraville, Orient, Pittsburg, Pomona, Raleigh, Royalton, Scheller, Sesser, Springerton, Stonefort, Texico, Thompsonville, Valier, Vergennes, Waltonville, West Frankfort, Whittington, Woodlawn, Zeigler, and surrounding areas.