Water Damage Murphysboro
911 Restoration Southern Illinois is here for all homeowners when they require the expert services of a caring team. Our water damage Murphysboro crew can perform every restoration need your home requires. There will never be a sign an accident ever took place. In fact, it will be better than new.
You get the help from a team that is available 24/7/365
For expedient service, we arrive within 45-minutes
Same-day service
Licensed, bonded, and insured technicians.
Your peace of mind is on the line, so we get it right the first time. For a team you can confide in, give us a call, today.
Now, we often receive question on whether or not they can be shut down at night. Unfortunately, they need to be running for as long as they can in order to prevent a mold infestation.
All mold requires to grow is organic material and excess moisture. Therefore, when we remove all the water, then there is nothing left to give mold the kick start it needs to form a colony.
Expert Water Cleanup and Mold Prevention
When a water damage incident occurs the water gets to more places than just where the water incident happened. Therefore, you need the know-how and the high tech eye of the IICRC certified experts at 911 Restoration Southern Illinois.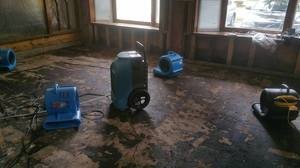 The water damage Murphysboro team arrives with the most advanced restoration technologies on the market, so that every ounce of moisture is accounted for. One of the tools we use is known as an infrared camera.
These show the mapping of heat radiating off things. As water has a high specific heat it masks warmth very well. Thus, in the camera it appears as cool blue blobs. This lets us know that there is hidden humidity in a wall or a subfloor.
Once it is located, then we begin water extraction. If there is pooling water, then we use either an industrial grade wet vacuum or pump. We always make sure to safely lead it to a storm drain, or somewhere it cannot make you sick. After that, then we begin dehumidification.
The humidifiers we bring pull out gallons of moisture from the air, thus decreasing the ambient humidity of the space.  This combined with dryers and blowers increases the rate at which water in soaked material evaporates.
When you need restoration efforts that keep the security of your future in mind, then give us a call at 911 Restoration Southern Illinois.
Water Restoration FAQs.
The water damage Murphysboro team wants to take the time to answer some common questions we get over the phone and in person. This section is mostly built around saving you time, and giving you a little more peace of mind, so that you can get back on your feet faster.

One of the most common concerns we get is home evacuation. If you undergone a pipe burst, ceiling leak, or a mold infestation, then usually you can still live at home.
Some areas in your home may not be accessible such as a kitchen or bathroom.
The things that do force homeowners out is usually a major fire or collapsing building structures. In the event of something like sewage backup, then it is a good idea to vacate the premises, as that can be dangerous to your health.
In vacating the premises your insurance company will provide you with a living stipend for food and lodging. Which leads us to the next common question, and that is regarding the duration of restoration.
Typically, a dry-out is done in about three days, but like the previous question: it all depends on the extent of damage. If the space that was affected was like a basement, then it can take a day to complete extraction all the water.
Furthermore, the equipment we bring, such as a blowers and dehumidifiers, need to be on for as long it takes for the space to dry. It is how we guarantee to you the ultimate peace of mind.
For the fresh fix you deserve, call our water damage Murphysboro team with 911 Restoration Southern Illinois and let the experts put your home back to normal in no time today!