Water Damage And Mold Removal in West Frankfort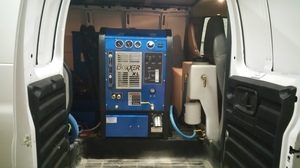 Property owners in West Frankfort are never free from the threat of water damage. Not only is every home or business vulnerable to run-of-the-mill pipe bursts, sewage backups, and washer machine floods, but the local weather also puts properties at risk. The good news is that 911 Restoration of Southern Illinois is your ally in water damage restoration in West Frankfort and beyond. It doesn't matter if you've had a midnight pipe burst or are one of many property owners trying to recover from storm or tornado damage. You can always count on 911 Restoration for emergency flood cleanup 24/7/365.
Reach out at any time of the day or night and expert water damage restoration technicians will be on the scene in 45 minutes or less. These professionals have all achieved IICRC certification after rigorous training in all aspects of property restoration. Do you need water extraction? They're on it. Roof repair? No problem. Sewage cleanup? Mold inspection? Mold removal? You name it, they're experts.
Compassion is the guiding principle behind everything your dedicated flood cleanup crew does. At every moment, they're working to give you peace of mind and top-tier service. They know how overwhelming it is when you're faced with a pipe burst, flooded basement, or any other property water disaster. Their goal is to take every last worry off your plate and answer your questions before you even think to ask. Case in point: they provide a free insurance consultation to clarify which water damage restoration services your provider covers. You don't have to go into the flood cleanup process worried about whether your insurance covers mold inspection and mold decontamination. You have all those answers up front. Not only that, but the water damage restoration staff even helps with loss itemization and claim filing.
Everything is harder when you do it alone. Let 911 Restoration of Southern Illinois be your partner. Call today and breathe easily.
24 Hour Emergency Flood Cleanup In West Frankfort
911 Restoration has been in the water damage restoration business for a long time, and we still have yet to hear about a pipe burst or flooded basement that politely held off until business hours. That's why our flood cleanup professionals are available to you any time of the day or night, every day of the year.
When the expert team arrives at your property, their first order of business is to assess the situation, communicate with you about their strategy, and launch into action, providing swift emergency service to help minimize damage. Whatever you need, they've got it covered, including emergency boarding up, roof repair, storm repair, and water extraction. After they remove all water from your property, they bring in professional fans to dry the area thoroughly in the hopes of preventing rot and mold contamination.
However, some water damage disasters are so extensive that even the swiftest response can't prevent damage. Not to worry. If there's any damage whatsoever, the flood cleanup experts handle repairs. It doesn't matter what type of surface or material you're dealing with. From roofing to drywall, they fix it all. They also handle mold inspection and mold remediation.
At 911 Restoration, we believe that every pipe burst and flooded basement is an opportunity to build again, better than ever. If you need water damage restoration or mold remediation in West Frankfort, turn to the company who promises to give you a Fresh Start. Call 911 Restoration of Southern Illinois today.
Should I Get A Mold Inspection After Water Damage?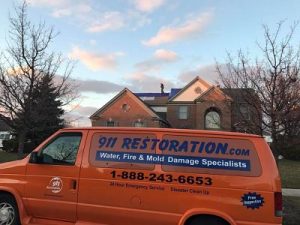 In the wake of water damage, it is always a good idea to have a mold inspection done by a certified contractor like 911 Restoration of Southern Illinois.
A mold infestation can develop quickly any time your home or business has been flooded with water. Even a minor ceiling leak can lead to contamination. Mold spores only need a 24 hours of exposure to a damp surface to start a mold colony. And once growth has begun, you need mold removal service right away. The entire function of mold is to decompose organic materials, and without prompt mold remediation, the fungus will cause permanent damage to your walls, ceiling, carpets, and floors.
Mold removal should also be done urgently because of the risks an infestation poses to your health. While black mold is notorious for its toxigenic nature, you should know that even "harmless" seeming varieties like white mold can be allergenic or pathogenic. Delayed mold remediation could lead to a variety of health issues for humans and pets occupying the contaminated space.
When the mold decontamination specialists discover a colony during their mold inspection, they quickly devise a strategy for safe mold removal based on the species. Once they've carefully eliminated the growth from your home or business, they dehumidify the structure to prevent the infestation from returning.
Whether they're providing flood cleanup or mold remediation, the experts at 911 Restoration care first and foremost for your wellbeing. You deserve the highest standard of service and compassionate care. Enjoy both these benefits by calling 911 Restoration of Southern Illinois today.
Servicing the cities of Akin, Ava, Belknap, Belle Rive, Benton, Bluford, Bonnie, Brookport, Broughton, Buckner, Burnt Prairie, Cambria, Campbell Hill, Carbondale, Carmi, Carrier Mills, Carterville, Christopher, Coello, Colp, Creal Springs, Crossville, Dahlgren, Dale, De Soto, Dix, Dowell, Eddyville, Eldorado, Elkville, Emma, Energy, Enfield, Ewing, Frankfort Heights, Galatia, Golconda, Gorham, Grand Tower, Harrisburg, Herod, Herrin, Hurst, Ina, Jacob, Johnston City, Logan, Macedonia, Makanda, Marion, Maunie, Mc Leansboro, Metropolis, Mill Shoals, Mount Vernon, Muddy, Mulkeytown, Murphysboro, Nason, Norris City, Opdyke, Oraville, Orient, Pittsburg, Pomona, Raleigh, Royalton, Scheller, Sesser, Springerton, Stonefort, Texico, Thompsonville, Valier, Vergennes, Waltonville, West Frankfort, Whittington, Woodlawn, Zeigler, and surrounding areas.